Welcome to PhotoWalk Poland workshops!
We offer a variety of photographic workshops and tours to the most fabulous sightseeing places across Poland. Join us today and start creating better photos!
AMAZING BIEBRZA RIVER WORKSHOPS & TOURS
In northeastern Poland, a unique river meanders through a picturesque landscape, creating numerous oxbow lakes. Its name is Biebrza. The valley stretching around is a complex of peatlands, with no equal in Europe. Three types of wetlands: fens, transitional mires and bogs – the famous across Europe Biebrza Marshes – surrounding the river differ from each other both in terms of the flora, as well as the fauna. In 1993, the Biebrza National Park was created here, and two years later the area received international legal protection under the Ramsar Convention as a wetland of particular importance for sustaining natural habitats of water and marsh birds. Untouched river valley, relatively few settlements and farming areas make the Biebrza Valley a unique place to enjoy landscapes practically unspoiled by human presence…
Join us for Biebrza River Photographic Workshops. You will be able to discover the secrets of unique wildlife and acquire knowledge and practical skills in nature photography. We recommend Biebrza Workshops to all wildlife, nature and photography lovers. We start our Biebrza workshops in early spring. At that time of the year, the river floods the valley, thus transforming it into a true kingdom of hundreds of thousands of migrating water and marsh birds. Flooded meadows and pastures are covered with yellow blooming kingcups, and the air is filled with the mating sounds of countless birds. Majestic flood plains of Biebrza are frequented by over 280 species of birds, 180 of which are breeding species. Biebrza swamps are a kingdom of elks, beavers, otters and weasels, wild boars and foxes, wolves and many other animals. All that offers endless opportunities of taking a glimpse of Nature at its best…
As part of the Biebrza Photographic Workshops, we offer:
Small groups, allowing for elements of individual work,
Full board based on regional delicacies,
Accommodation on ecological agro-tourism farm in rooms with bathrooms,
Transportation within the Biebrza National Park,
Outdoor photographic workshops on the trails of the Biebrza National Park,
Chance to test high-quality photographic lenses made by our partner – Sigma,
Possibility to use observation equipment (binoculars),
Discounts for subsequent workshops and stays at our farm,
Wonderful atmosphere, a chance for a unique adventure and long discussions about nature and photography!
WARSAW PHOTO WALKS & POLAND PHOTO TOURS
Traveling to Warsaw for the weekend or vacation? Join us for City Never Sleeps PhotoWalks!
Let us take You to the most unique and interesting sightseeing places and show You, how to photograph them the best possible way!
NatureWalks will show You the beauty of the city and suburban parks, botanical gardens, and national forests – away from crowded places and noisy tourist attractions. We offer individual, family, and group photo walks. Please contact us and tell us about your interests and expectations. We will do the rest!
We also offer individual and group photographic tours to the most unique locations across Poland. Our custom-made packages include ground transportation, hotel or bed & breakfast accommodation, all meals, experienced travel guides and much more. Please contact us for a hassle-free price estimate or to order photographic trips suited to your individual needs. You can reach us by mail or by phone 7 days a week.
UPCOMING PHOTOGRAPHIC EVENTS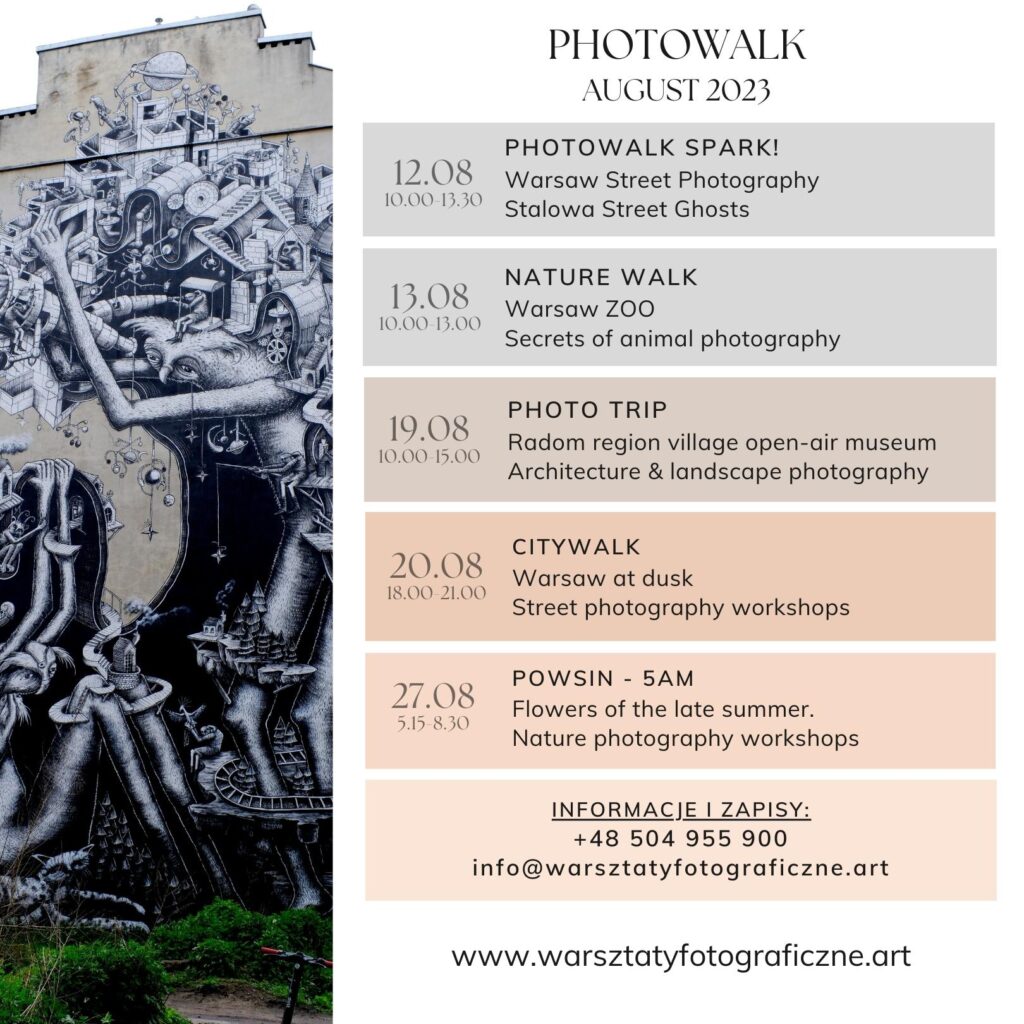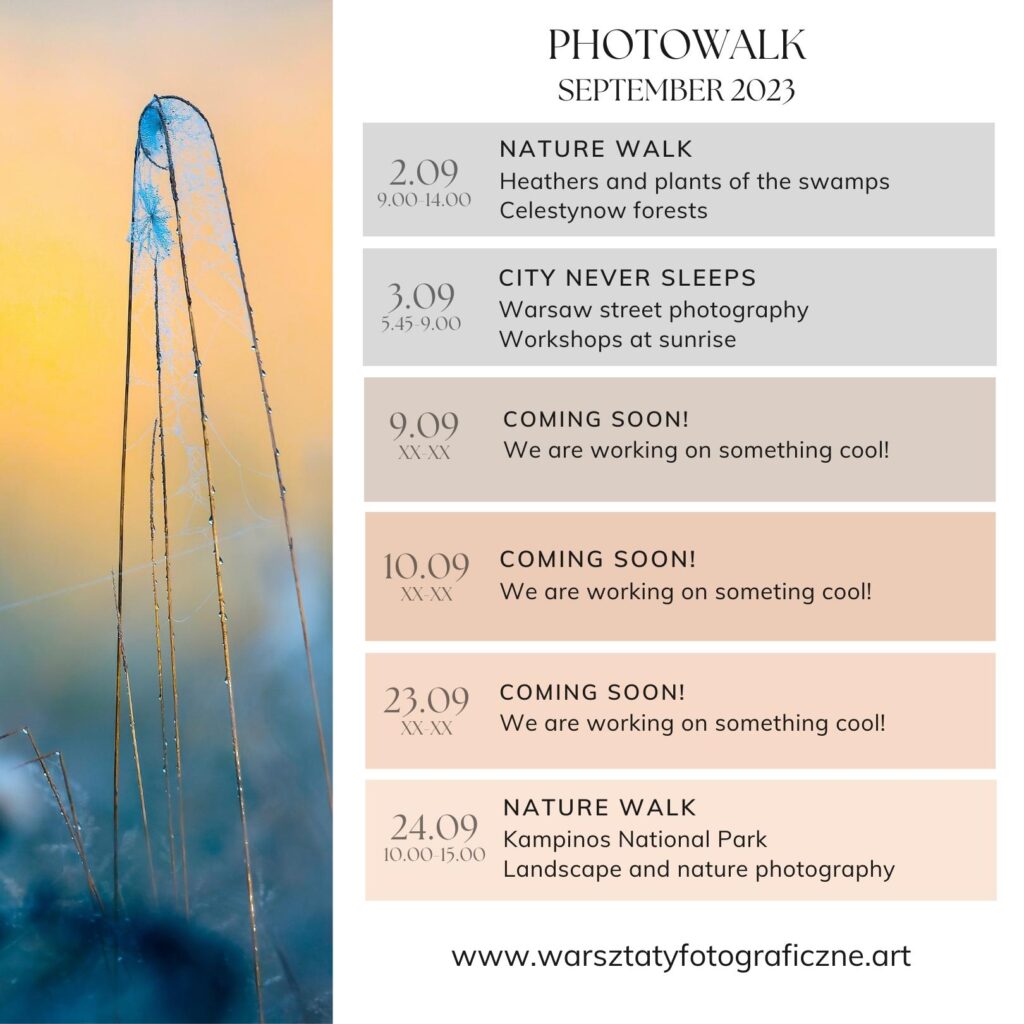 Feel free to contact us for details regarding the above events. We are available for You:
by phone at +48 504 955 900
by e-mail at info@warsztatyfotograficzne.art
---
ABOUT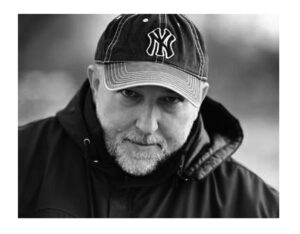 Jerry T. Deluga | PhotoWalk coordinator & lecturer | Photojournalist with more than 25 years long professional experience achieved during a professional career for various publications and photo agencies in Poland and the United States. His articles and photos have been published i.e. by Nowy Dziennik Polish Daily News (NYC), Dziennik Polski, Chicago Express Weekly, Tribune de Geneve, Women's Basketball, and IFS Magazine. In the years 1998-2004 member of the prestigious photojournalistic organizations: Foreign Press Association of NY and White House News Photographers Association. Founder and the first President of the Polish Photographers Club of America (1998-1999). Grand Master of the Canon Photography Masters contest. From 2004 to 2006 he served as the personal photographer to Prime Ministers of Poland: Marek Belka and Kazimierz Marcinkiewicz. Specializing in portrait, photojournalism, landscape, and nature/macro photography. Ambassador of SIGMA.

---
CONTACT US!
Feel free to contact us! We are available 7 days a week.
WE SPEAK ENGLISH

PhotoWalk by DG ART
Photographic Tours & Workshops
Warsaw, POLAND
Phone: +48 504 955 900
Email: info[at]warsztatyfotograficzne.art